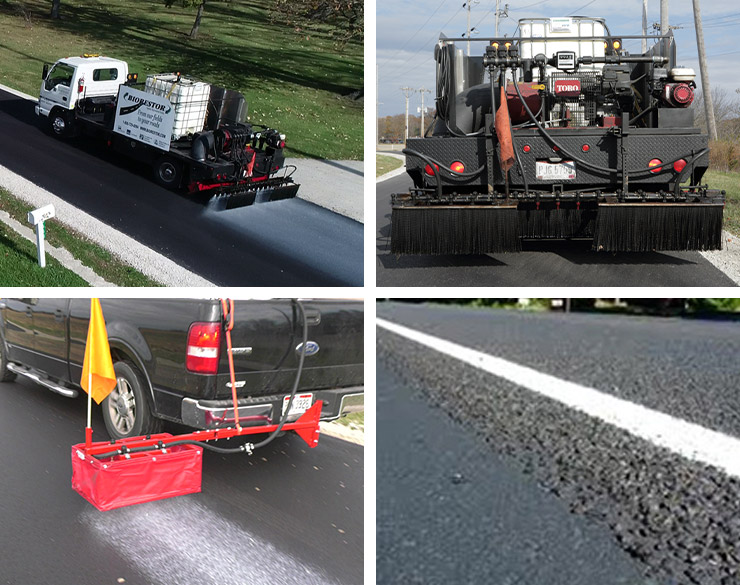 About BioBased Spray Systems LLC
BioBased Spray Systems LLC is a U.S. distribution and manufacturing company that offers USDA Bio-Preferred construction products.  BIORESTOR® products are offered through a dealer network for several specialized applications on asphalt pavements. Our rejuvenators are developed utilizing renewable resources to minimize harmful environmental impact while extending the lifecycle of asphalt investments.
Also known as fog seals, BIORESTOR® products were designed to assist agencies and businesses interested in asphalt rejuvenation as a better method of pavement management. Over the years, pavements mixes have been squeezed and refined  to such extent that cracking is becoming the norm in 6-8 months! As well as extensive refinement, the introduction of recycled asphalt pavements or RAP is becoming a popular method of recycling but with lost integrity of the asphalt binder.
BioBased Spray Systems LLC offers affordable products and services to provide your pavement with the best opportunity to  –
Minimize Pavement Deterioration
Maximizing Lifetime Longevity
Both saving money!
Our History
 1973 – 1980 –  Asphalt Emulsion Manufacturer- mill operator/plant manager
 1980 – 1987 – Technician with geotechnical lab –soils analysis / cement-lime stabilization / concrete / asphalt mixes testing and QC
1988 – Owner of Freisthler Paving Inc., which offered commercial lot design, complete construction as well as road work. The company was DOT approved for many paving aspects and licensed in several – OH, PA, TN and AL.
 1995 – Started Asphalt Systems Ohio, Inc offering asphalt preservation products (fog seals) to assist customers in preventing the rapid pavement deterioration with lower cost processes.
2004 –  Developed a bio-based product for pavement rejuvenation BIORESTOR® offering an additional preventative maintenance tool for use on asphalt driveways, parking lots and roads.

After laboratory testing, for a number of years, and in place history of performance "BIORESTOR®" is now being offered to dealers across the country. "BIORESTOR®" is on the USDA bio preferred list of sustainable products.
 2008 – Started the manufacturing company, BioBased Spray Systems, LLC, to begin manufacturing of "BIORESTOR®" and the specialty equipment required for application.
 2010 – The paving company was sold to allow more time to focus on pavement preservation and bio based product developments. Focused preservation treatments on township roads.
BIORESTOR® was applied at Tyndall AFB to drone runway
 2011 – Dealer for Illinois joined group
Florida Village Community districts project was performed
2014 – BIORESTOR® was placed on Tyndall Air Force Base (retreatment and additional)
2015 – Indiana & Michigan dealer joined
Florida Village Community districts project continued
2016 – New Zealand dealer joined
Approx.  600 hundred miles of construction joint in Tennessee treated
2018 – Louisiana dealer joined
Midwest/West coast representative appointed

Housier national forest treated with BIORESTOR®
2019 – 60 plus miles of construction joint treated in Tennessee
Began offering product at a Do-It-Yourself application for states, counties or agencies.
Texas dealer joined
Tyndall AFB third treatment of runway overruns
Bio Based spray systems LLC, manufactures BIORESTOR® products in house, offering it to dealers, states, counties or agencies. Specialized spray systems designed specifically for the precise application of BIORESTOR® rejuvenators are fabricated for purchase by –
Potential dealers, States DOT departments, Counties, or Agencies with the desire to apply BIORESTOR® asphalt rejuvenators. Please contact Bio Based Spray Systems LLC with any questions involving this process.